Hot Summer Printables
Summer Fun Printables - Skip to Games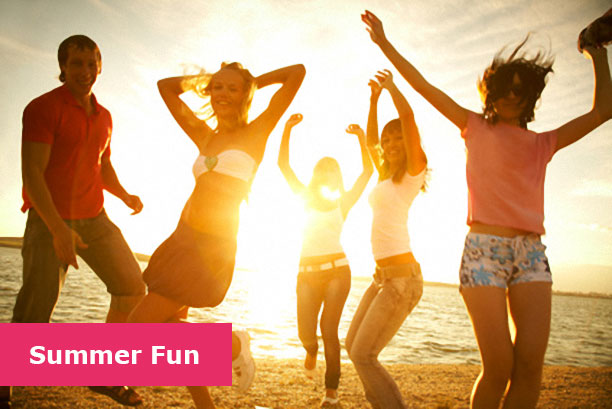 In the summer, whether you hit the road to go on vacation, organize a family reunion, or a cool beachside party, keeping them entertained is very important. Preferably without you losing your cool...

We Test Our Games

All of our printable games are tested in a party setting to make sure they work, and are fun to play.

But it does take a lot of time to prepare everything, doesn't it?
Well, just check out our selection of summer printables, that we have prepared for you.
All the grind work in making a fun printable summer game we've done for you, from thinking it up, doing the research, designing and publishing.
In minutes, you'll have a great looking and truly fun game to get your party going! 
Family Reunion Scavenger Hunt




Learn more about your family, as you hunt for the signatures of your family members that fit the profile. Be strategic about it, every family member can sign only once! (more...)



Pardon my French




Ooh la la! La France is closer than you think. Can you name the French words used in English in this charming little word  guessing game? Perfect for international themed parties! (more...)


It's all Greek to me




Awake your inner Zorba! In this printable trivia game, the winner is the one who can name the most Greek words that are used in every day English. Excellent game for toga parties! (more...)



What's in the Picnic Basket?





Find the items that are in the basket.  It's not as easy as it seems! (more...)





Life of the Party




Who is the life of the party at your gatherings? You can be sure they are bold, adventurous individuals who have gotten a great deal of attention over the years for their "je ne sais quoi" (more...)


Why Choose our Summer Printables?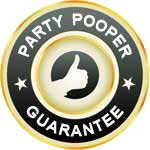 We are commited to your party's success. So, if the game turns out to be a "party pooper", contact us and we'll exchange it with another game of your choice, or refund your purchase (more...)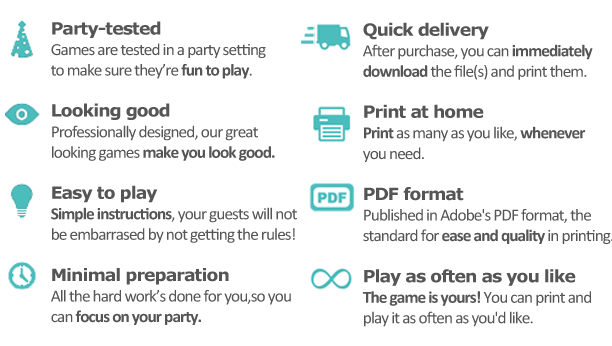 Looking for Summer Party Ideas?

If you're not sure yet what to do, we highly recommend to check out the Summer Edition of Party Fun Magazine.
In this edition:
- Are we there yet? Keeping vacation travelling fun!
- Flip-flops and Summer Fun - Cool summer party ideas
- Memorable Family Reunions - Is it your turn to organize this year's gathering?