Printable Super Bowl Party Games

Super Bowl Games - Skip to Games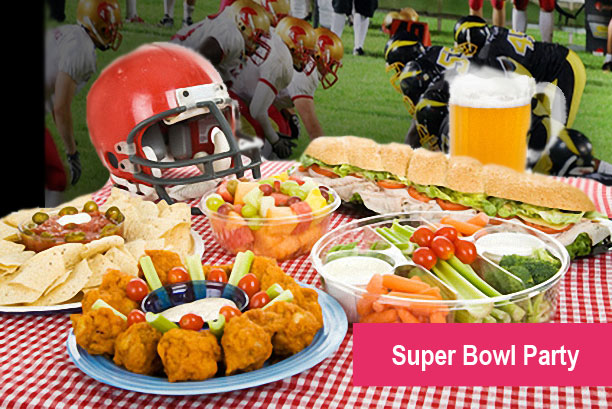 Having a great party for the Super Bowl doesn't just depend on the game...
Keep your guests entertained with our printable Super Bowl party games. It's the difference between hitting a field goal, or landing a touchdown!
We Test Our Games

All of our printable games are tested in a party setting to make sure they work, and are fun to play.

It can be surprisingly tough to come up with fun things to do that fits the Super Bowl party theme...  And you have enough stuff to take care of already. That's why we offer ready made, party-tested, great-looking games that you can download within minutes.
One less thing to worry about!


Super Bowl 3-Game Party Pack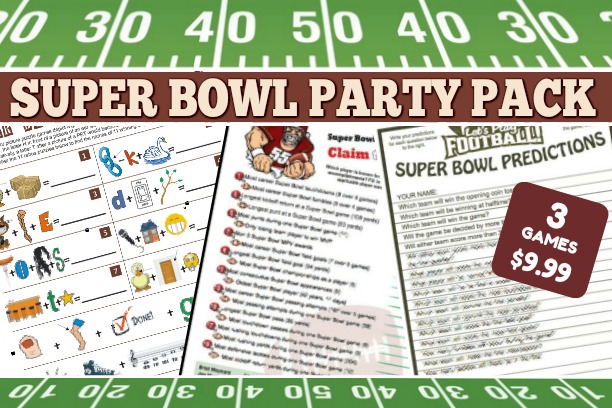 Great value for money!
Includes 3 Games - Super Bowl Trivia, Predictions, and Super Bowl Picture Puzzle
(See details on each game below)

NOTE: Super Bowl 54 Picture Puzzle is NOT included in this 3 pack.
Super Bowl Trivia
Are your guests real American
Football buffs? Can they name the
players who claim the fame to
20 Super Bowl accomplishments?
Entertain your guests with challenging Super Bowl Trivia. (more...)
Super Bowl Predictions
Are your guests true Super Bowl afficionados?
Then they will still be challenged to predict the outcomes of the
20 questions for this year's
Super Bowl. (more...)

Super Bowl Picture Puzzle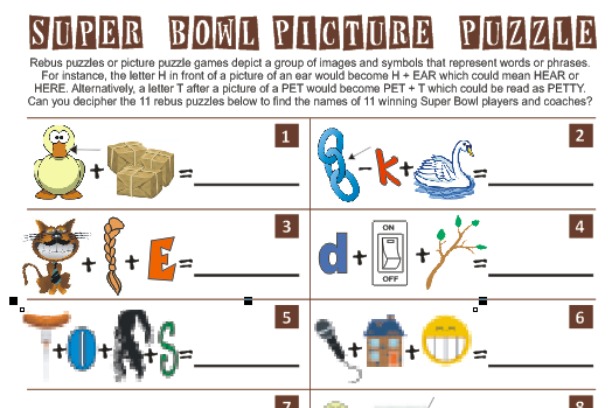 Decipher 11 rebus puzzles to find the names of winning Super Bowl players and coaches. (more...)
Super Bowl 54 Picture Puzzle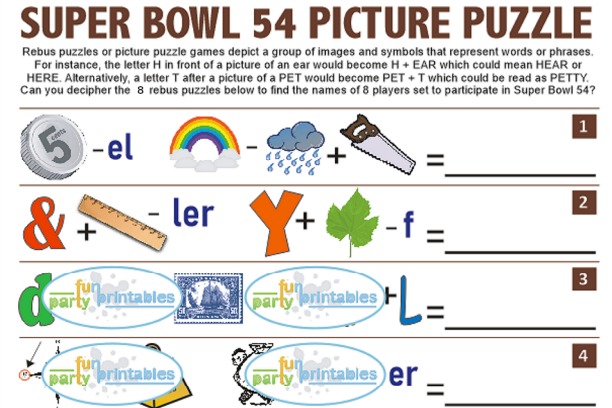 Decipher 8 rebus puzzles to find the names of 8 players participating in Super Bowl 54. (more...)
FREE Super Bowl Squares
Plan to run an NFL Super Bowl Pool? Using the Super Bowl Squares is one of the most fun ways to do it, while giving all players (novices and NFL superfans alike) a shot at winning! (more...)
Why Choose our Super Bowl Games?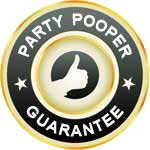 We are commited to your party's success. So, if the game turns out to be a "party pooper", contact us and we'll exchange it with another game of your choice, or refund your purchase (more...)