Life of the Party Icebreaker Game
Summer Fun Printables - Leave a Comment - Buy Now


Price: $5.99

Who is the life of the party at your gatherings?
You can be sure they are bold, adventurous individuals who have gotten a great deal of attention over the years for their "je ne sais quoi".
How it's played

Determine who the life of YOUR party is by reading the provided scenarios aloud. Guests can claim a point and bragging rights for each of the scenarios they can say, "That's me!" to.
For added fun, have your guests elaborate on their stories. You'll be surprised how much you learn about your wall flowers, superstars, and everyone in between with this party icebreaker game.
Award prizes to the "Life of YOUR Party" (guest with the most points), the guest with the best story, and even to the party poopers (0 points).
Preparations are easy

Print out just for you. You won't hand them out (unless a party attendee wants to take a look at it afterwards. It happens often, so we made sure it looks extra pretty!).
Buy some prizes beforehand, so you can hand them out to the winners.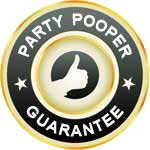 We are commited to your party's success. So, if the game turns out to be a "party pooper", contact us and we'll exchange it with another game of your choice, or refund your purchase (more...)