Witch Trivia: Do you know these Famous Witches?
Halloween Printables - Leave a Comment - Buy Now


Price: $5.99

Are your party guests real witch buffs? Test their knowledge of these famous witches... can they name both the characters and the actresses that played them?
How it's played

18 descriptions of famous movie an TV witches are given, and your party guests can score points for providing the name of the famous witch and/or the actress that played the part.
For example, what witch is a troubled girl with suicidal tendencies who discovers her supernatural powers after moving to Los Angeles and joining a coven in The Craft? Answer: Sarah Baile, played by Robin Tunney.
The person with the most points is surely a supernatural! (after all, how else would she or he know so much about these witches?)

You can also choose to form witches circles, and the team
with the highest score wins.
Cackling is allowed during gameplay!
Preparations are easy

After downloading the game document, print out as many sheets as you need.
To entice more competition, get appropriate prizes for the winner or winning team!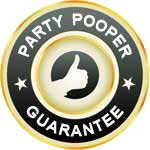 We are commited to your party's success. So, if the game turns out to be a "party pooper", contact us and we'll exchange it with another game of your choice, or refund your purchase (more...)