Trick or Treat Game! A Deliciously Fun Halloween Trivia
Halloween Printables - Leave a Comment - Buy Now


Price: $5.99

What's in a Halloween treat bag? This Halloween trick or treat game
will have everyone guessing.
How it's played

Your party guests will have a fun time thinking up the name of the candy gifts that fit the mysterious descriptions given. Can they guess that Sugary-Sweet Know-it-alls are actually Smarties?
You can hand out the printed forms and let a player or team of players fill it in. Most filled in correctly wind. Or you have just one print, and call out the description... the one who frst names the candy gets a point, most points win.
BUT...

...we found out during testing that this candy bar game really shines when you have the actual candies to hand out when guessed. When you do this, make sure you put a max on how many candy one player can win, because it's nicest when everybody gets some treats!
Preparations are easy

After downloading the game document, print out as many sheets as you need.
If you want to hand out the actual candy (highly recommended!) you will have to do some shopping to get one of each.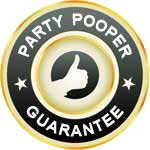 We are commited to your party's success. So, if the game turns out to be a "party pooper", contact us and we'll exchange it with another game of your choice, or refund your purchase (more...)