(Please allow loading of images in your e-mail client)
Here's your new edition of...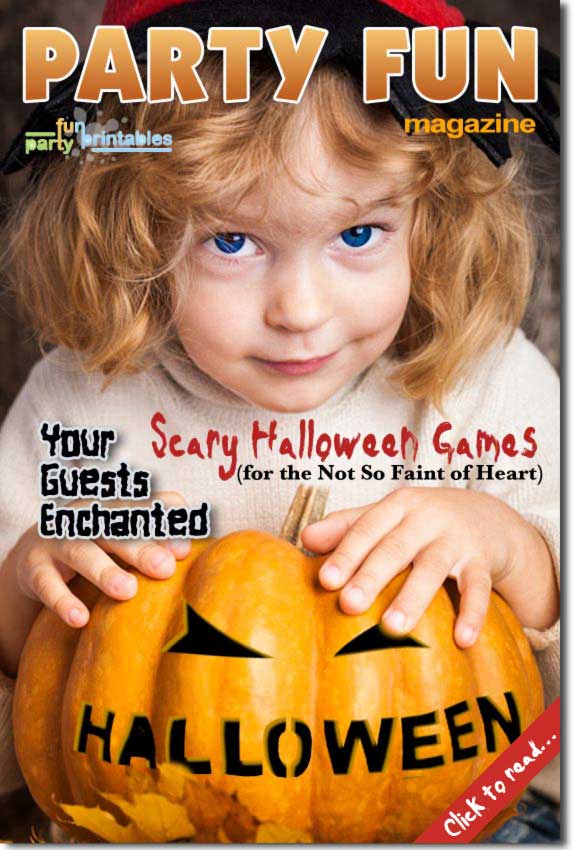 (Click here to read the magazine online)


PARTY FUN MAGAZINE - HALLOWEEN
In This Issue
Letter from
the Editor
Why is it that we love to be frightened? Is it the euphoric relief afterwards, or the excitement that gets our hearts pumping?
No doubt about it, whether our experience with ghouls, ghosts, zombies, werewolves or vampires is real or virtual, it releases adrenaline in our bloodstream which makes us feel more alive. It's for this reason that we love to play scary games on Halloween…
it's that unique combination of fun, fear and friendship, that make Halloween parties extra twisted. Your guests will remember your party; probably in their nightmares!
Featured Stories
Scary Halloween Games...
for the Not so Faint at Heart
Add some spine-chilling fun to your spooky soiree
with these scary Halloween games.
Enchant your Guests

Make your Halloween party memorable by choosing
the right Halloween party game ideas for your crowd.
Fun Halloween Ideas that will Boo you Away!
Celebrate the scariest season of the year with fun Halloween ideas that will conjure up some spooky holiday spirit.



---
Join us at Facebook!
Have you visited our Facebook page already? It helps you to keep track of everything we do at PartyFunPrintables.
We'll post new printable game releases there, of course the new edition of PARTY FUN MAGAZINE, and it allows us to keep in touch with you!
We'd really love it if you come by and check it out.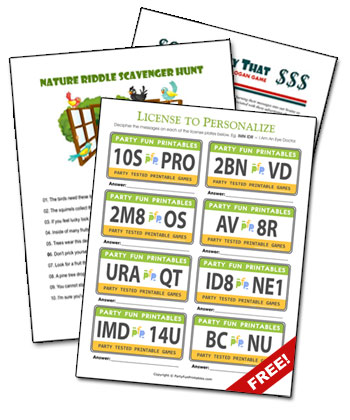 To make it worth your while, we made a set of new games that you can immediately download if you like us... The procedure for that is quite easy...
3 easy steps...
Go to our Homepage, and click on Like (look at the left).
Go to our Facebook page and Like it too.
Instantly download your FREE games pack!
Non-Facebook Users: You need to create an account at Facebook before you can register your "Like." Facebook is a fun and effective way to socialize and network online.
We hope you zoom by at Facebook!
Halloween Games!
To stay in summer style, here are 3 games we released recently. Hope you enjoy!
How it's played: Horror movies depict some gruesome villains and desperate victims. Can your guests decipher Who Dun It in each of the described horrific scenarios?

Score 1 point for naming the character and another for naming the actor/actress that played the role.

The winner is the person or team with the most points.

(more...)
How it's played: your party guests will have a fun time thinking up the name of the candy gifts that fit the mysterious descriptions given. Can they guess that Sugary-Sweet Know-it-alls are actually Smarties?

You can hand out the printed forms and let a player or team of players fill it in. Most filled in correctly wind. Or you have just one print, and call out the description... the one who frst names the candy gets a point, most points win.

(more...)
How it's played: Use this Right Left Halloween game as a fun way to do a gift exchange. It's also great as anicebreaker when you're giving out just a few prizes to start an event.

To play the game, form a circle and pass the gift(s), (candy, prizes, etc.) to the right when you hear the word RIGHT and to the left when you hear the word LEFT. When the story is over, the gifts belong to whomever is holding them.

(more...)
We are commited to your party's success. So, if the game turns out to be a "party pooper", contact us and we'll exchange it with another game of your choice, or refund your purchase (more...)

25% Halloween Discount Coupon
If you enter the coupon code " HALLOW33N " at checkout, you will get a 25% discount over your entire order! This coupon code is valid until Oct 31st, 2012.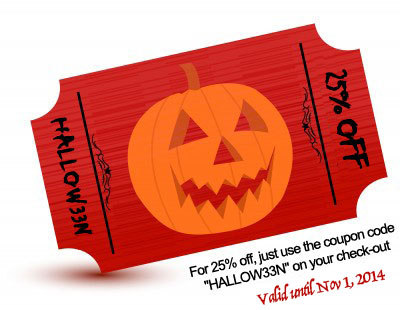 That's it for now! Please drop by every now and then, either at PartyFunPrintables.com or at our Facebook page.
Thank you, and have a great summer!
Your Party Fun Team.



Below is important information with which you can manage your subscription.