halloween games ideas to boo you away
If you are looking to add a little excitement to Halloween this year, you can find fun Halloween ideas that will fit any fright level.


Ghost Story around the Campfire
It's a tried and true Halloween idea, but it is still one of the most popular. We all have memories of scary campfire stories. Oh sure, we laughed and pretended not to be scared but we spent all night with the sleeping bag pulled up to our chins, jumping at every noise, and willing the sun to come up just a little faster. So, why not relive some of these memories – or make some new ones by placing a few chairs around a campfire and seeing who can tell the scariest story. But, if it's an overnight campout, remember to provide extra batteries in case your guests want to sleep with the flashlight on!

Haunted House Party
Horror Movie Trivia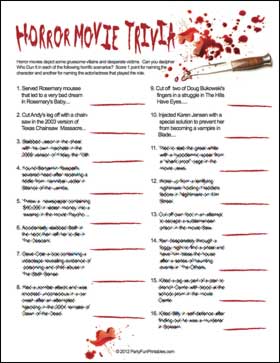 Scare up some party fun with this scary halloween game that challenges guests to
recall who dun it based on a short synopsis of scary movie scenes. (more...)
Transform your house into a haunted mansion and host a Halloween costume party. You could add an interesting twist by asking each family or group to come dressed as a different set of characters such as vampires, famous witches, spooky cartoon characters, or the Addams family.
For Halloween night, you could turn your garage or backyard into a creepy haunt for trick-or-treaters to pass through. Spooky noises, hairy spiders, walking mummies, slimy objects, and coffins filled with the resurrected dead will have both kids and adults shaking in their costumes.
Halloween Treat Bake-off
Get together with some friends (or your children's friends) and have fun making tasty Halloween treats. Everyone will enjoy making creepy cupcakes, caramel apples, or spider cookies.
Discover your Future
Whether or not you believe a crystal ball can predict your future, hiring a fortune teller will add some interest and intrigue to your Halloween party. If you want something a little scarier than tarot cards and palm readings, you could enlist the help of a psychic and host a seance.
HAPPY HALLOWEEN!