Match Hollywood Love Quotes to Movie Couples

If your party guests know and love romantic Hollywood movies, they may love the challenge of matching the most famous love quotes to movie couples.
Mouse over to zoom in

Price: $5.99

How it's played: We've combed through the most loved movies of the past and present, searching for memorable love quotes. In this game, we have 15 romantic quotes. It's up to the players to match the quotes with the actor/actress that said it, to the actor/actress that was so lucky to be on the receiving end. Do they also know from what movie the line is?

You can form teams to play, or let your guests play individually. The team or individual with the most correct matches wins.

There are 2 versions of the game in this package:

The biggest challenge is the version where your guests have to match and name the actors and actresses (not the role they were playing) and the movie in which the love quote was spoken.
A lighter version (but still a challenge!) where the names can be selected from a list.

Preparations are easy: After downloading the game document, print out as many sheets (of the version of your choice) as you need. If you want to entice some real competition, get some prizes for the winning team!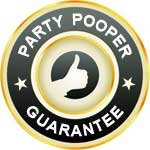 We are commited to your party's success. So, if the game turns out to be a "party pooper", contact us and we'll exchange it with another game of your choice, or refund your purchase (
more...
)
Party-tested
All games are tested in a party setting, to make sure they are fun to play.


Looking good
Professionally designed, our games look great, making the party planner look well prepared.


Easy instructions
Our games are easy to follow and play, your guests need not be embarrased by not getting the rules!


Minimal preparation
All the hard design work is done for you, so you can focus on other aspects of your party.



Quick delivery
After purchase, you can immediately download the file(s), and have them printing in minutes.


PDF format
Published in Adobe's PDF format, the standard for ease and quality in printable documents.


Print at home
You can print the game at your convenience. If you need the game NOW, you can print them NOW.


Play as often as you like
The game is yours! You can print and play it as often as you'd like.


Price: $5.99